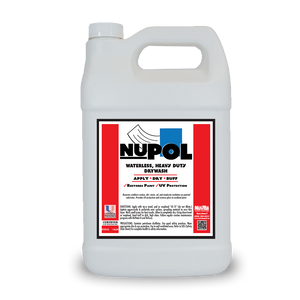 NuPol (PC2205) - HEAVY DUTY (Waterless) Drywash For Painted Surfaces
APPLY-DRY-BUFF WITH NO WATER NEEDED!
Removes stubborn carbon, dirt, stains, oil, andmoderate oxidation from painted surface, while providing UV protection and restoring gloss. NuPol is a non-dilutable compound and usage should be followed by a routine maintenance program with NuPower II or and NuGlaze.  
SMI & Test Approval: AMS1530, AMS1530B, AMS1531, AMS1531C, AMS1532, AMS1532C, AMS1650B, AMS1650C,  Boeing D6-17487 & CSD1
OEM &  Airline Approval: Embraer, Gulfstream & FedEx
Disclaimer: When using any NUVITE product, please refer to appropriate procedures and recommendations for use and equipment, or contact a NUVITE technician for more information, unique applications and special requirements