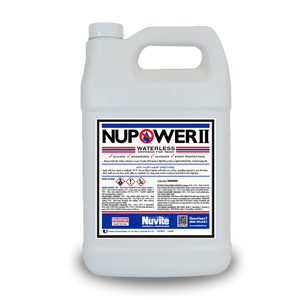 NuPower II (PC2190) - (Waterless) Drywash For Painted Surfaces
APPLY-DRY-BUFF WITH NO WATER NEEDED!
NuPower II removes soil from dirt, carbon, lubricants, & more, while providing UV protection, high gloss, and extended coating life. NuPower II is an ideal first step in dealing with oxidized paint.

SMI & Test Approval: AIMS-09-00-002, AMS1650, CSD1, RIL0248 & Boeing D6-17487
OEM Approval: Bombardier, Comac, Embraer & Gulfstream
Airline Approval: Air Canada, American, Avianca, Cathay Pacific, China Airlines, Delta, El Al, FedEx, Frontier, Korean Air, Lufthansa & Singapore Airlines.
Disclaimer: When using any NUVITE product, please refer to appropriate procedures and recommendations for use and equipment, or contact a NUVITE technician for more information, unique applications and special requirements