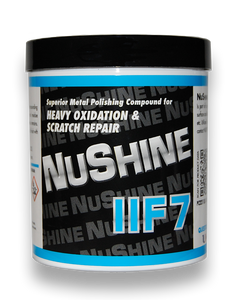 NuShine II Metal Polish (PC2221) – Grade F7 for Heavy Oxidation & Scratch Repair
Nushine II - Grade F7 Metal Polish for heavy oxidation and scratch repair. Perfect for polishing away heavy oxidation and scratches and used in a multi-step procedure on clad, cast or forged aluminum, nickel, stainless steel, etc. (Not recommended for Clearcoat finishes).
SMI & Test Approval: AIMS-09-00-002, AMS1650C, Boeing D6-17487, Boeing D6-9002 & CSD1.
OEM Approval: Bombardier, Comac, Dassault Falcon, Embraer, Gulfstream, TEXTRON (Cessna & Beechcraft)
Airline Approval: Air Canada Express (Jazz), AeroMexico, American, Cathay Pacific, El Al, Frontier, Korean Air, Japan Airlines & United.
Disclaimer: When using any NUVITE product, please refer to appropriate procedures and recommendations for use and equipment, or contact a NUVITE technician for more information, unique applications and special requirements.